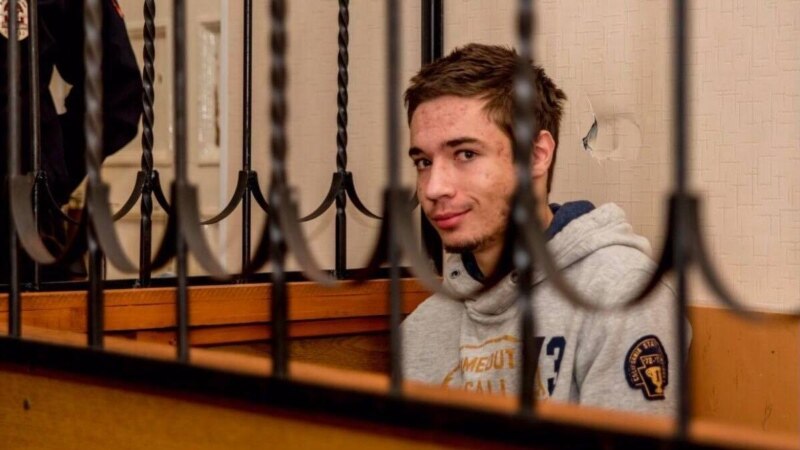 A Russian court has sentenced 20-year-old Ukrainian citizen Pavlo Hryb to six years in prison on a charge of "promoting terrorism," which he denies.
After the North Caucasus Regional Court in the city of Rostov-on-Don pronounced the verdict and sentence on March 21, Hryb maintained his innocence and announced he was starting a hunger strike to protest the ruling.
"Because I was denied medical treatment while in custody and [Ukrainian Ombudswoman Lyudmyla] Denisova was not allowed to visit me, as well as because of all what is happening, I am starting a hunger strike," Hryb said.
Earlier on March 21, in his last statement at the trial, Hryb said that the charge against him was fabricated by the Russian Federal Security Service (FSB), calling the FSB officers "bandits and murderers."
Hryb also wished "all Ukrainian patriots" who are in Russian custody to "decently, with truth and dignity" withstand their ordeals, ending his statement by shouting "Glory to Ukraine!"
Hryb went missing in August 2017 after he traveled to Belarus to meet a woman he met online.
Relatives believe he walked into a trap set by Russia's Federal Security Service (FSB), which later told Ukraine that Hryb was being held in a detention center in Russia on suspicion of promoting terrorism.
Russian investigators accuse Hryb of using the Internet to instruct a teenage girl in Russia's southern city of Sochi to carry out a terrorist act using an explosive device.
Hryb's father, Ihor, has argued that the case against his son was Russian retaliation for his son's Internet posts that were openly critical of Russia's interference in Ukraine.
In his statement at the trial, Hryb also said that "nobody would have thought" that Belarus might be "in fact, a dangerous country for Ukrainians," where Russia's secret services could abduct them.
Hryb felt unwell during the hearing on March 21 and an ambulance was called to the courtroom.
His relatives and a doctor in Ukraine said earlier that he has a medical condition — portal hypertension, a kind of high blood pressure.
Denisova said in January that Hryb's medical condition had worsened in Russian custody and that he needed heart surgery.
The European Union has called on Moscow to release all Ukrainian citizens "illegally detained" both in Russia and in Ukraine's Russia-annexed Crimea.
Russia seized control of Ukraine's Crimean Peninsula in March 2014, after sending in troops and staging a referendum dismissed as illegal by at least 100 countries.
Moscow also backs separatists in a war against government forces that has killed some 13,000 people in eastern Ukraine since April 2014.
Based on reporting by UNIAN, Current Time, Dozhd, Hromadske, and Interfax